Have you heard the news?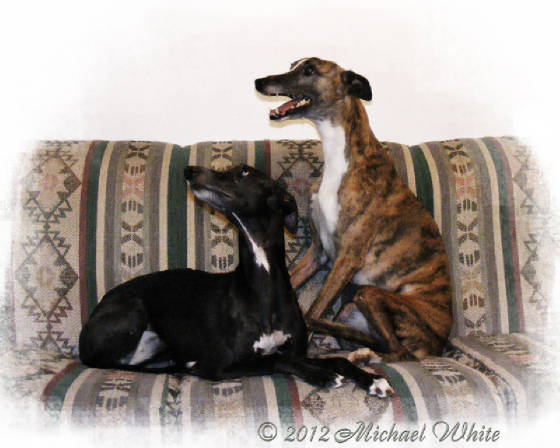 The happy couple
Graffiti is from the SaeSi "Talk" litter, sired by "Mouff" - SaeSi Aw You Dawg, CRX-4, OTR, JC, out of K.I.A. - Delphi Point Of Know Return, CRX. As a youngster, he was a stand-out: sound, keen, balanced, and fast. Maybe he was even a bit too fast when coupled with too much youthful fearlessness, and the unfortunate result was a serious backyard injury to an ACL. Consequently, he has not raced competitively; it's too risky with hardware in his knee. Even so, we believe he has a lot to offer as a sire. His injury has not dampened his enthusiasm for life or his sweet, silly nature, and certainly doesn't detract from his structural beauty or the great potential he carries in his genes. Graffiti brings to our Longrun family a wonderful "older" pedigree with close ties to some great whippets of the past. We would especially like to note that both he and Mazie are grandchildren of Ch Wheatland Cab Calloway, RCh, the only dog ever to earn both an AKC bench title and a NAWRA Race Champion title. Pretty awesome!
Handsome Graffiti - note the arm of the chair -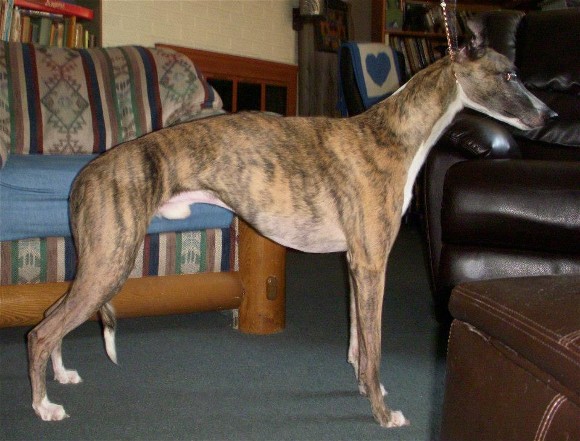 kind of gives an extra bump to his topline. Oops!

Ah, love! These two will make beautiful puppies!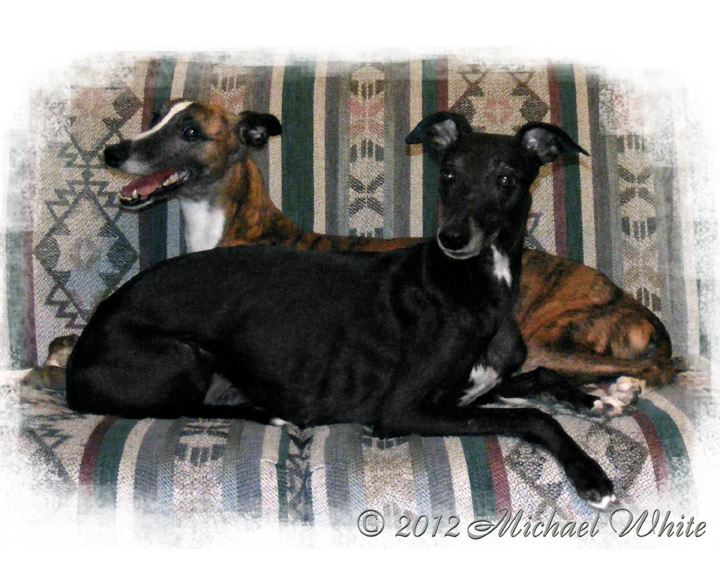 Mazie ... Mazie ... what can I say about Mazie? I have written many paragraphs on this site, as well as on facebook and other sites, about our precious Mazie. Unlike human children, dogs are possessions, and so we are allowed to admit to having favorites, right? So, while I love all of my dogs, I must admit that Mazie and her brother, Starman, are my favorites. The two of them occupy a special place in my heart, and have almost since the day they were born into my waiting hands, and I know my husband feels the same way. There is something in their eyes, their personalities, and the crazy combination of elegance, athleticism, regality, and downright goofiness they both possess that has captured our hearts. Those traits may seem to be at odds with each other, and you might think they can't exist in one animal. To me, they are exactly the combination that creates a perfect whippet. Add to this the following from the whippet Breed Standard: "Color immaterial". Perfect. That is what my darling Mazie is to me.
Beautiful Mazie