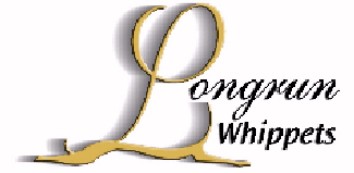 This "Hot" summer litter is expected to come on the scene in Sept. 2009
Hot Topic, WRCh, ORC, FCh x Int Ch Longrun's Amazing Grace, CRX-3, OTRM-2
The puppies have arrived - born Sept. 10, 2009!
Eight wonderful, beautiful pups - LOOK!
All grown up! These "pups" are all happy in their wonderful homes. Below are their grown up names and locations:
1. "Mazy", Longrun's Amazing Hot Rod - northern IL
2. "Pippi" - Colorado
3. "Jack" - Longrun's Hot Off The Presses, CRX (WRCh pointed) - MO
4. "Ivan", Longrun's Hot For Teacher - IN (with two teachers!)
5. "Lancer", Longrun's Caution Hot! - WI
6. "Teddy", Longrun's Some Like It Hot, OTRM (ORC pointed) - IL
7. "Tutu", Longrun's Too Hot To Handle, CRX-3, OTRM-2 (WRCh, ORC, & ASFA FCh pointed) here at Longrun
8. "Devo", Longrun's Hot Wheels - SD

Here's that breath-taking running photo again!

Hot romance ensued when our lovely country girl met this exciting city boy-next-door (next state, that is) from Ballwin, Missouri. Handsome Burghley, bred by Janet Trowbridge and owned by sisters Pam LeClair and Sue Weilbacher, is a multiple meet winner who is hot, hot, hot on the track and oh, so sweet to boot. He combines classic whippet curves, smooth and powerful muscles, and a heart of gold. He has a solid temperament and loving personality that make him a joy to live with. We are thrilled to have the privilege of breeding the very first litter sired by this wonderful dog, and wish to thank Pam and Sue with all our hearts for allowing us to use him.

Burghley is CERF clear and normal for cardiac, thyroid, and the Myostatin Deficiency.

Yes, this gorgeous guy is AKC show pointed!

- And he's CUTE, too!
See, I do have ears. Now, where's the cookie?

Falling in love again ... can't help it!
Can you say "Ripped"?!

Mazie's win photo from the 2009 AWC National
We were SO excited to place under Swedish judge Magnus Hagstedt

With her graceful curves, correct angles, beautifully balanced movement, tremendous keenness for the lure, and sweet, affectionate nature, Mazie always makes us proud. She truly has the best of both sides of her pedigree. In the show ring, she has seven points toward her AKC bench championship with limited showing, and recently earned her International Championship with the IABCA. In addition to minor straight and oval racing titles, Mazie also has placements and points toward an ASFA Field Championship, though we lure course rarely. Her first litter, born in April of 2008, are looking great, and we can hardly wait to see what this second litter will bring us!!!

Mazie is CERF clear, and normal for BAER, cardiac, Myostatin Deficiency, and Von Willebrand's.

This is still my favorite running photo of Mazie
You go, girl!

Our adorable sweetie-pie
Photo by Laurie Erickson

About three weeks - ribs beginning to spread!
Mazie: "You think I'm WHAT again?!!!"
We will continue to add a new photo about every week -

Just over 4 weeks in whelp
Ribs spreading and tuck-up beginning to un-tuck!

Six weeks from the second breeding -
August 21, 2009

Eight weeks from the first breeding
Day 57, September 2, 2009

so check back and watch the belly grow!

More tummy! Five weeks in whelp.
August 14, 2009

Seven weeks in whelp
August 27, 2009

The 63rd day, Sept. 8, 2009
Something's gotta give soon!