Mario is our puppy from our Guido M. x Mazie litter whelped April 29, 2008. We love this boy! His body, muscle, and personality are just what we hoped to get from his parents, and his gorgeous color is the icing on the cake.
L to R: Tosca, Meadow, and Mario, 5 1/2 months old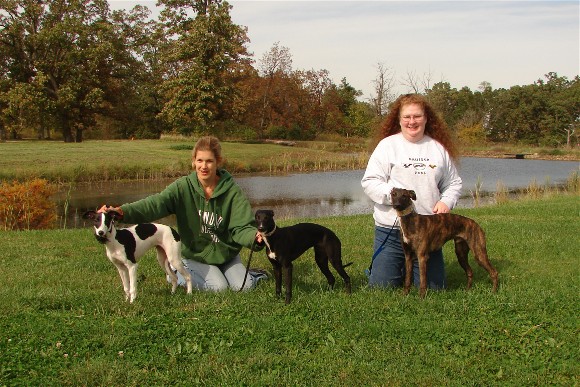 with Annie Whitney (Meadow's Mom) and Me
10 1/2 months - looking good!
Just don't get any taller!
Mario the show dog at the AWC National Specialty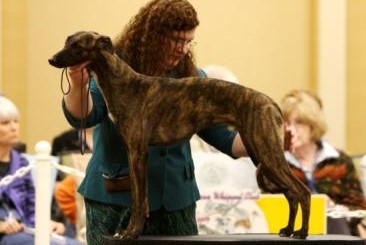 Mario made the long trip with us to Atlanta, GA, for the American Whippet Club National Specialty in early April of 2009, at the ripe old age of 11 months. Being the laid-back dude that he is, he took it all in stride. He competed in a costume contest at the welcome party, along with his mama Mazie, then hung out with us for most of the part. Things got pretty loud and wild, but he was totally unphased, just looking around and taking it all it. It showed how trusting he is. He wasn't a bit concerned, but I was costantly watching to be sure no one would step on him.

Mario is a mellow, loving boy, with a silly streak. He loves toys and games, and also loves to snuggle. He likes to keep watch over Bill and me, following us around like a shadow, and is restless when we're in different rooms.
Selena and Mario model their Decotogs jammies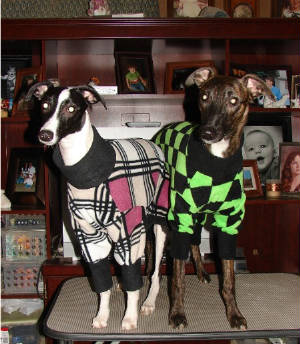 age 7 1/2 months - "Awe, MOM!"
More embarrassment: Mario the Dino-bunny (11 mo)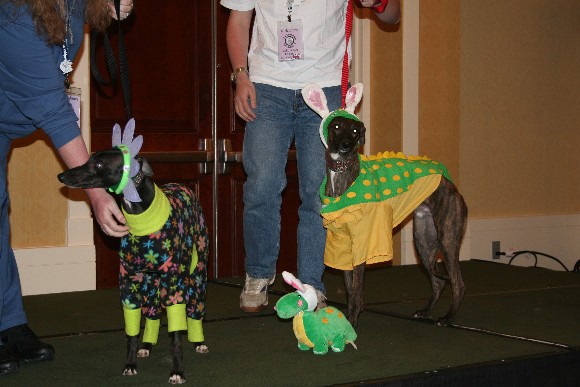 with Mama Mazie the Easter Flower at the AWC National
Hanging out in the ring at the AWC Nat., age 11 mo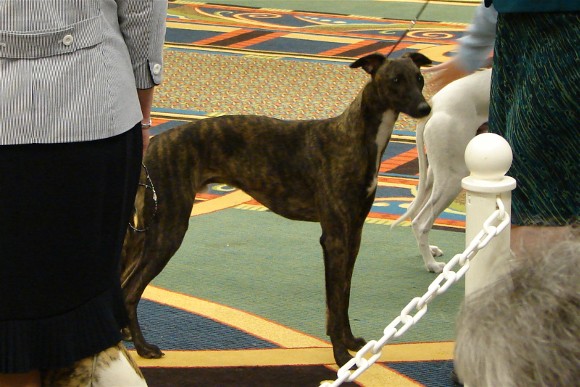 Mario was a very good boy for me!
While at the AWC National, Mario took a turn around the show ring for the first time. He hadn't been to any classes and really had very little practice, but he behaved beautifully for me. He's such a good boy! I had a great time in the ring with my Mar-Mar, and look forward to showing him again at race meet fun matches and maybe a Specialty now and then. I know he isn't most show judes' cup of tea, but I love him!