The past couple of weeks have brought many changes to the puppies' lives! Little "pup 4" is doing great in her new home, and we enjoyed another week with the two boys before I made the long trip to get them to their new home. In their last two days with us, the Midwestern winter finally showed itself, and the three pups had their first real snow experience, with mixed reviews.
Annabel & O'Dell seemed to enjoy the adventure -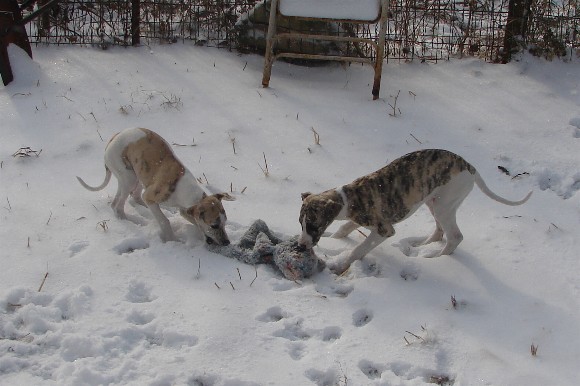 a winter whippet wonderland with frozen toys.
Homer was NOT impressed!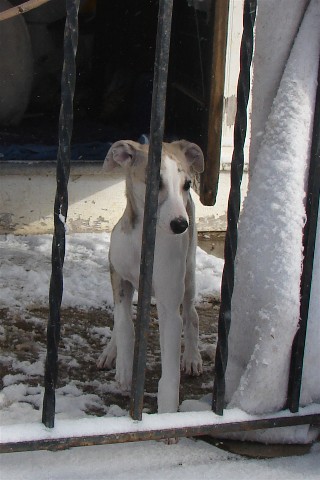 After a long flight & a night in a hotel -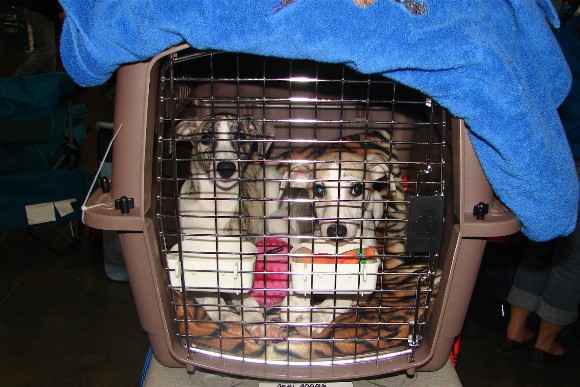 O'Dell & Homer visit a dog show for the 1st time.
Homer & the boys' new best buddy, Jake.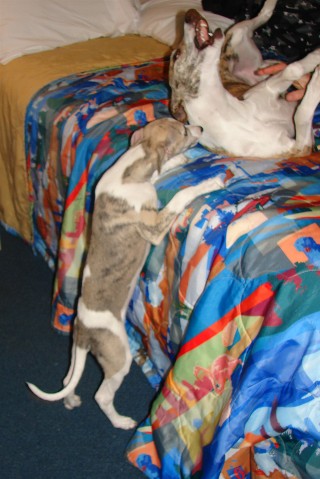 The next morning, O'Dell grabs some air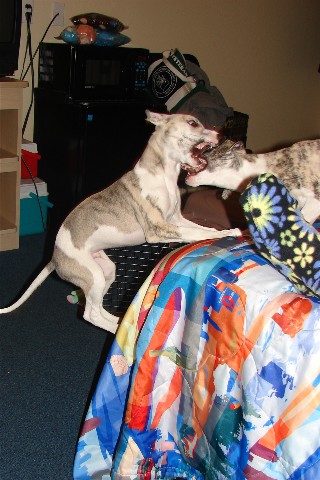 as he and Homer have a romp before heading to their new home.
The other Longrun adults also give lessons;
here Tutu demonstrates a cuddling technique.
And now: the posed pics of Annabel .........
Annabel at 12 weeks -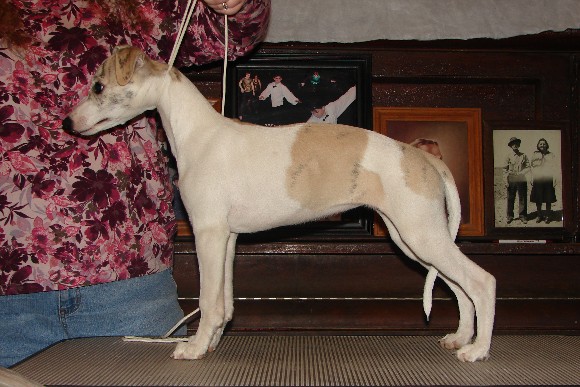 must work out those wiggles!
Thanks to Debi and James, who did a great job on these photos!
Homer at 12 weeks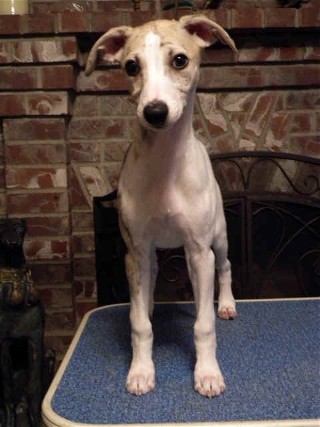 O'Dell at 12 weeks

Homer and O'Dell made me very proud on the trip, seeming to take it all in stride. They quickly bonded with Debi and her 9-month-old pup, Jake. I was sure they would have no trouble fitting into the rest of the household at Jade Whippets. Sister Annabel, is adjusting well to her littermates' departures, and is joining right in with the "big dogs" here at Longrun. We're thrilled with these confident, friendly youngsters!
Annabel with a snoutful of snow - brrrrrrr!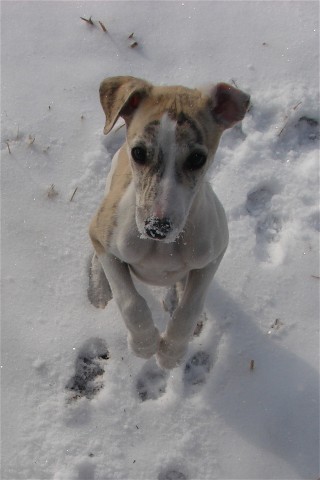 Warm and snug - the boys' last morning here.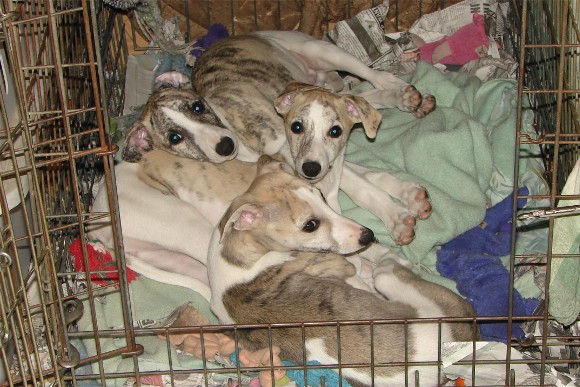 They had a great time digging up their bedding!
Back at the hotel, O'Dell may look relaxed,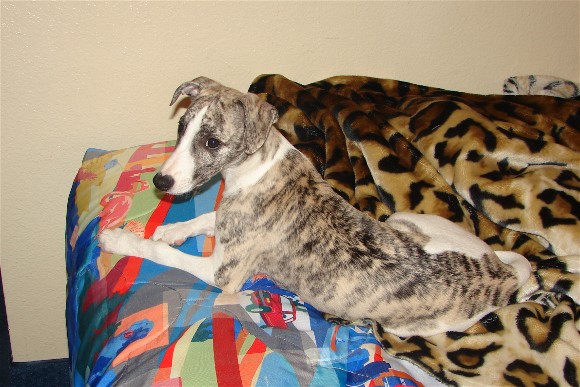 but he's just plotting his next move.
Finally winding down: O'Dell, Homer, & Jake,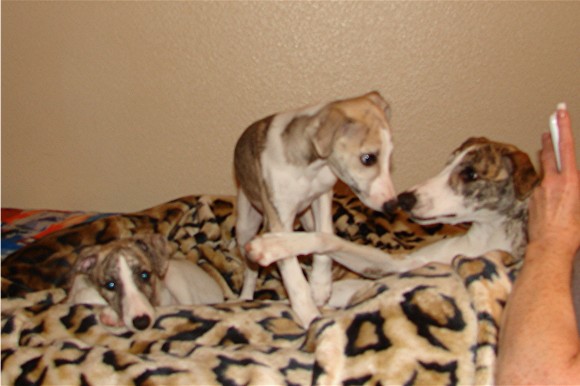 having a snuggle on Debi Adam's bed.
Having delivered Homer and O'Dell to their co-breeder and new mom, Debi Adams, I returned to Illinois and the task of fully integrating little Annabel into the realm of adult dogdom in our home. She has a lot to learn, but all the dogs are welcoming her and helping her learn the ropes.
Meanwhile, back at the ranch, er, farm: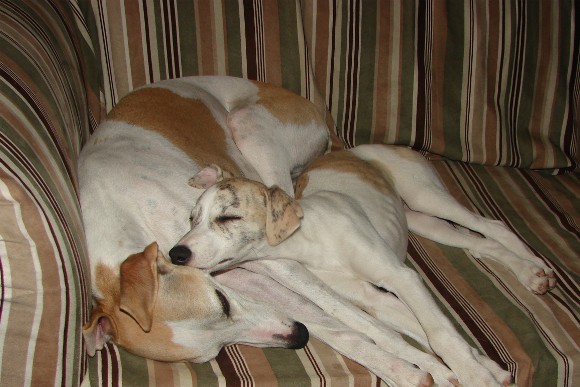 Annabel learns the basics of couch snoozing from Duet.
Annabel is integrating well into the "pack" -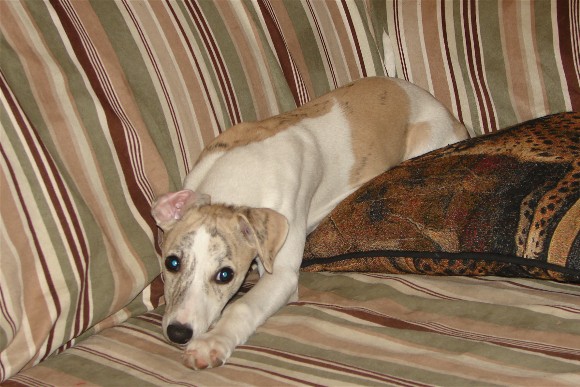 getting to be such a big girl! We LOVE her!
plus pics of the boys from Debi:
Precious baby girl!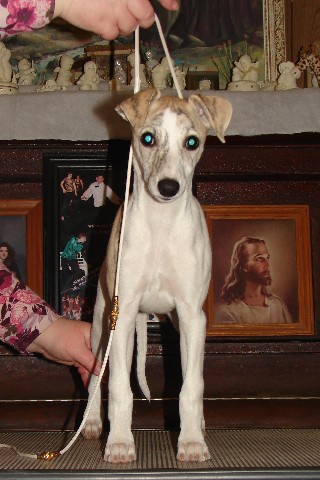 What a good boy!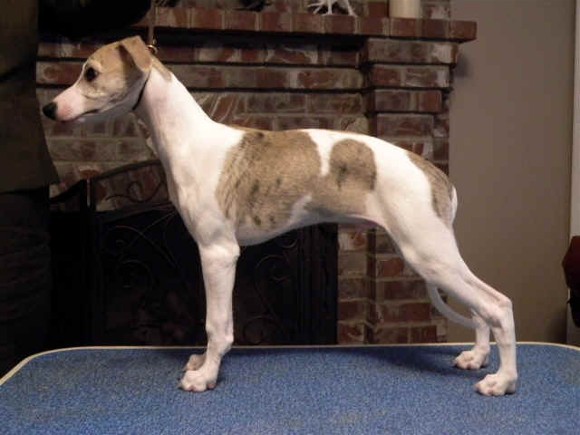 So, cute - I really miss these pups!